Secrets on the Lake Wedding
Hi Karen,
Many thanks for all you did to make our wedding ceremony so wonderful and memorable. It was certainly a great day, and all went according to plan except for the size of my ring. The ring is currently at a workshop in Brisbane being enlarged by two sizes.
All members of both families were very impressed by all aspects of the day. The reception at the Lakehouse followed by the cake event in the Restaurant went very well and left all feeling very happy and satisfied it was a day not to be missed.
Maureen and I then had a very restful, happy and reflective time at the Gold Coast.
Karen, thank you for your very professional and informative approach to all aspects of our wedding. Your very efficient and compassionate manner helped make all the planning very easy, and ensured the ceremony was very relaxed, meaningful and memorable.
Maureen and I could not have selected a better marriage celebrant.
For your information, we have already received our copy of the certificate of marriage from the Registrar of Births, Deaths and Marriages. Thank you for attending to this without delay after the wedding.
Finally, I have attached a small batch of photos selected from the 6 million taken on the big day and the days that followed. I hope they don't bore you too much.
Many thanks once again. We will never forget how much you contributed to our special day and we will be thinking of you whenever we next need help with a special occasion.
Warm regards,Robert and Maureen
A family wedding celebration at a gorgeous location
Wedding at Secrets on the Lake, October, 2017
Rain may have interrupted the ceremony, but did not dampen the spirits!
"Dear Karen,
.........Everyone has mentioned just how wonderful they thought the day and evening was, and even though it rained, it made our day even more special. We were quite nervous about all the little pieces coming together, but we got very lucky to have such a fantastic celebrant :). After our final meeting with you on the morning prior to the wedding, we both walked away a lot more at ease. We would have loved to have you enjoy a drink with us afterwards, but thank you so much for making our Wedding day everything we could have hoped for.
Thank you for the information, much appreciated. We will get onto the registry for a copy of the certificate and we will most definitely recommend you to as many others as we can......Have a fantastic week ahead, Jacob and Georgia." January 2017 at Half Moon Hideaway, Maleny

Bribie Island Wedding 2016
Hi Karen,
I am sorry for the delayed reply, we have been busy - catching up with work, family and friends (and getting the house back in order as we had neglected so much whilst in preparation for our day!!)
Thank you so much for being who you are – professional, organised, compassionate and sincere, and most of all, the celebrant who has made Alicia's and my dream come true – your ceremony for the day was faultless – and we have had many positive comments from friends and family. We could not have asked for a more seamlessly executed afternoon  (albeit a bit hot in the sun!)
PS: You looked amazing on the day – perfect for our wedding
PPS: Alicia says "very sexy and glamorous celebrant, you!!"
We had some beautiful shots with our photographer, and he has captured some stunning backdrops – as soon as we get some back, we would be more than happy to forward a couple on to you for your resume!! (cheeky chuckle!)
The evening remained very humid and slightly uncomfortable, but everyone who attended thoroughly enjoyed the festivities – which finished with rain and a welcome cool change at around 10pm.
Again, Alicia and I would like so very much to thank you for your participation in our day – we actually watched some footage of the day this morning that our young nephew prepared for us, and it brought tears of happiness and remembrance to our eyes again!!
We both thank you for your support, guidance, suggestions, and everything else that has made our day so memorable and momentous - it will be remembered forever.
Our kindest regards.
Ian and Alicia Mercer 
(Mr &Mrs, that is!! LOL!)
[caption id="attachment_220" align="alignright" width="150"]
Ian and Alicia, Bribie Island[/caption]
Magnificent Maleny Manor
"Hi Karen
Thanks so much for touching base, it's lovely to hear from you.
The day was absolutely amazing, I couldn't have imagined or hoped for anything more perfect - everything was better than expected and we are so grateful. …………. Thank you so much for being a part of our special day, the ceremony was one to remember and it ran so smoothly - everything just worked and flowed so naturally. The rest of the day was beyond amazing.
…….Attached is one of my favourite pics.
Hope to see you soon.
Nicole and Jimmy"
[caption id="attachment_363" align="alignright" width="150"]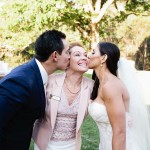 "The day was absolutely amazing..." [/caption]
A Beautiful Wedding at Maleny Manor
Hi Karen,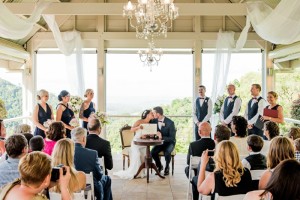 You made both Daniel and I feel at ease through the whole process in leading up to the wedding and on the day.  We felt so comfortable with you.  I couldn't picture the day going any more perfectly, and we owe some of that gratitude to you.  Again, thank you so much from the bottom of our hearts!
Kind regards, Lindsey Handford.
Noosa at its best!
Dear Karen,
Thank you for all your hard work and beautiful words on our very special day. Seeing your smile at the end of the aisle put my nerves at ease.  You really are the best in the business!  Your passion for all things LOVE really was shown in our ceremony. Thank you.
Scott and Chanel
Noosa, June 2015
They met 30 years ago...briefly
Dear Karen,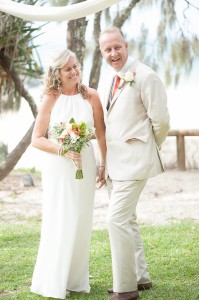 An unbelievably fantastic and thoroughly wonderful wedding.  The wedding was even better than we could ever have imagined and everyone who attended commented on how good it was especially the ceremony.
We would very much like to thank you for agreeing to be our celebrant and for your outstanding contribution towards making it our perfect day.  The ceremony was relaxed, calm, jovial, fun and  conducted in a manner that allowed us the opportunity to actually stop, enjoy ourselves and actually remember the occasion.  Your sheer presence, confidence, cheerful and bubbly character along with your friendly and calming influence was welcomed by everyone who attended none more so than Vicki and I; we could not have asked for anything more of you or for a better celebrant.
Your knowledge and experience, attention to detail, advice and support towards the preparation of our big day was outstanding.  We very much welcomed the couple of meetings we had with you at your house prior to the wedding as it gave us the added confidence and reassurance that we did not have anything to worry about on the day as everything had been meticulously planned and again helped settle the nerves so that we could enjoy the day.
We have already highly recommended you to friends and would have no hesitation in requesting for your services again should the situation arise.  Thank you for your contribution towards making our Wedding Day perfect and the photographs before, during and after the ceremony is evidence that a great time was had by all.
Vicki and I wish you all the very best for the future and hope to see you again soon. A massive thank you for a job extremely well done!
Phil and Vicki
Hidden Grove Wedding, Noosa 2015
Arrival at Laurels by Horse and Carriage
Hi Karen,
Thank you very much for being our celebrant we had a fantastic day and a fantastic honeymoon. When I receive my photos I will send a few through to you.
We are so happy that we chose you to be our celebrant, you made the day very special and made it easy, stress free and everyone felt relaxed. We couldn't have hoped for a better outcome for the ceremony, it was just beautiful. So thank you for helping us make our special day perfect. We will definitely be recommending you to any familyor friends who need a celebrant. Thanks Karen!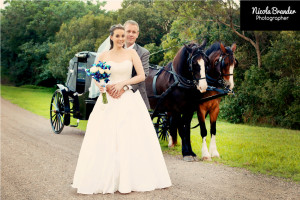 Hilarious Groom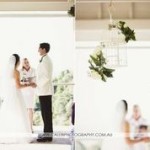 Hi there Karen,
Thank you so much for doing such a lovely job on our wedding day. The day was absolutely perfect and everyone had the best time!! I honestly think that you set the tone for the day so once again thank you so much for such a fabulous service. Warm Regards

Melina and Trampas
Maleny Manor Wedding in May 2013
Wedding Gown with Colour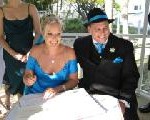 Hi Karen, Just wanted to say a HUGE thank you for making our wedding day so perfect!!!! We couldn't have wished for a lovelier ceremony that you provided us!!! It was an absolutely beautiful start to our most beautiful day!!! Everything went so smoothly from the second I arrived, until the end of the night.  We promise we'll drop in some photos when we get them back from our professional photographer so you can add us to your album!!! In the mean time, I've attached a couple from my Mum's camera I hope you'll like.  Thanks again, and we'll be in touch next time we get up to the coast.
Kaz and Jase
Caloundra Powerboat Club wedding
Hi Karen, Thank you so much for everything you did for us in the lead up to our wedding & on the day. I unfortunately did not get time to thank you on the day. Thanks again - you did an amazing job & we would not hesitate to recommend you for any of our family or friends.
Chloe & Ash
Pelican Waters Golf Resort & Spa, 2013
Beautiful Bride marrying at Surfair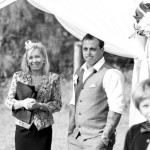 Dear Karen, Thankyou for making our day so special. I will definitely be recommending you for your exceptional professionalism and kind nature. We will definitely be using your services in the future. 100% satisfied! Kind Regards,
Bradley and Aimee Dati
Wedding at Surfair, October 2013
Great Gatsby Themed Wedding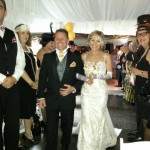 Hi Karen, Thanks so much, and yes, we soitently did have a fabulous day.  We had so many of our friends saying it was the best wedding they have ever been to.Pete and I would like to thank you from the bottom of our hearts for your wonderful job as a celebrant. You were fabulous. We loved your sense of humour and the fact you dressed the part. Your slang poem was great.  We had very positive feedback from our guests saying you were a great  marriage celebrant. We can't thank you enough.  Once again, thank you. We will be putting a testimonial on your website if that is ok. 
Giovanna and Pete
Themed Moffat Beach Wedding, 2013
Wedding at Tiffany's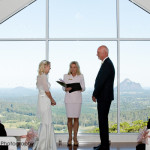 Hi Karen, Thanks again for making our day so magical. You were just so perfect in every way imaginable. Best wishes
Jo & Ken
Weddings at Tiffany's 16th June
Lauren & Daniel Wedding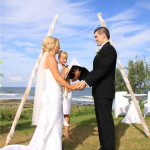 Hi Karen, How are you going? I hope you are well. Daniel and I would just like to say a big thank you for the wonderful amazing service you provided for us on our wedding day. You were so great, we were very lucky to have found you! Attached are a few photo's from our Wedding Day. Thanks again Karen, you are a lovely celebrant and you are fantastic at what you do. Warmest Regards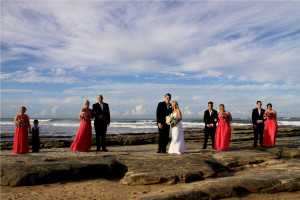 Lauren and Daniel Melit
Wedding at Sir Leslie Wilson Park
Chris & Liv Wedding
Hi Karen, I would like to take this opportunity to thank you for making Liv and Chris's day a happy and stress free one. Your careful planning and attention to detail made everything flow beautifully. As the mother of the pride I was extremely happy to just relax and enjoy the ceremony knowing it would all just come together. I have attached a lovely photo of the three of you. Thank you again.
Helen White, Mother of Bride
Wedding 1 Oct 2011