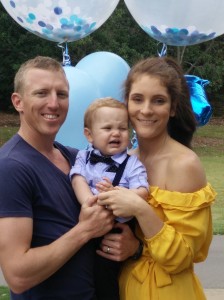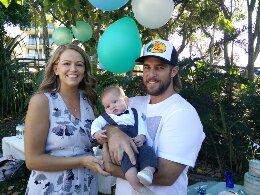 Name giving ceremonies and baptisms to welcome a new child.
Ceremonies are popular on the child's 1st Birthday celebration, or at a few months' old, and can be celebrated jointly with other siblings. This Ceremony celebrates and recognises the important and joyous occasion of the birth of a child, a new life amongst us. It enables families and friends to come together to share their joy, and to pledge their love, devotion and commitment to the child.  Family relationships are deepened and parents, godparents, and grandparents become more aware of their responsibilities.
The child will receive a Name Giving Certificate in calligraphy. You may choose to acknowledge Godparents, Grandparents and even Great Grandparents during the Ceremony, and they too can be provided with a Certificate.
Most ceremonies are held at a park or private home and are quite informal, and some are held in beautiful venues with all the trimmings.  Couples are becoming more creative and have included time capsules, pebble wishes, sand ceremonies, foot painting and smashing of the cake!  The photos here are very special to me, as I previously celebrated the couples' marriages, and was invited back into their lives to do a special celebration for their child.   I am pleased to answer any enquiries you may have about Baby Name Giving Ceremonies, baptisms, and coming of age celebrations.  Call me about your child's celebration      Ph  0412 242454 or drop me an email:  ksfaa@mail.com