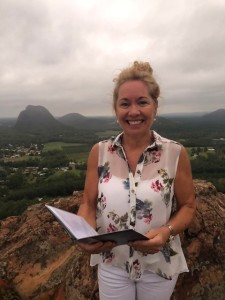 Today's bride and groom began their courtship with a three week camping trip in the Australian outback…. not unlike Meghan Markle and Prince Harry's camping under the stars in the African wilderness!  And that is where any similarity ends.  The bride and groom's wedding could not have been more different, than the one planned for Meghan and Harry.
"Would you climb a mountain so we can marry on the summit of Mt Ngungun at dawn? "
Delighted to find a celebrant who acceded to their unique wedding experience, the couple described the momentous significance that Mt Ngungun had for them.  It is their special haven, for sharing feelings, for reflection, meditation, a resting place, and today, they created new memories in this sacred location.
The super moon, blue moon and eclipse hidden by heavy cloud did not dampen the bride and groom's spirits who along with their two witnesses, climbed Mt Ngungun at 3am.
We did not see the sun rise, however, an eerie cloud hung low over Crookneck and Mt Beerwah, and the awe-inspiring Mt Tibrogargan was the backdrop for the nuptials.  The fine drizzle cooled us down, as we stood balancing on the rocks.  My sister, who accompanied me by torchlight on the predawn climb, was perched precariously on a boulder nearby, taking video on the ipad.  We held our breath as the bride and groom, poised with their backs to the 250+ metre drop, carefully turned towards each other to exchange their vows.   It was an amazing experience, shared only by those few present; an intimate, moving ceremony.
Congratulations to a beautiful couple, who did it their way!
How very special it is to experience and witness the joining of couples in some unique and memorable ceremonies.  Helicopter arrivals, parachuting groomsmen, jetski arrivals or bucks/hens' celebrations, cruises to secluded island locations, intimate nuptials on private yachts, all these magical wedding experiences are here on our doorstep.  The Sunshine Coast also hosts glamorous and gorgeous weddings at award winning coastal and hinterland wedding venues, meaningful exchanges of vows in stunning chapels, special celebrations of love in secret romantic getaways, rainforests, and beautiful dream beach weddings in quiet secluded beach locations, aswell as the Sunshine Coasts' famous and popular beaches.
Karen Faa, Marriage Celebrant of over 23 years, based on the Sunshine Coast www.karenfaa.com