How it all Started!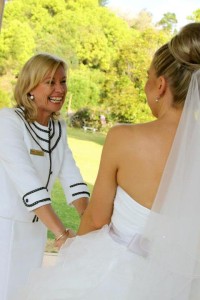 More than two decades ago, someone simply suggested that I would make a wonderful celebrant …  and 'planted a seed'. The keys were my personality and life experience. An unusual suggestion to me as a "20 something", turned out to be one of the best ideas ever! I have now been a celebrant since 1995. I started in Brisbane, and relocated to the beautiful Sunshine Coast. I love conducting weddings, name giving ceremonies and renewal of vows.  By special request, I have also officiated at memorial services. Many special days later I still genuinely love what I do and bring my enthusiasm, smile and a wealth of experience to each and every celebration.

My Passion
I believe that the romance of a wedding is a truly magical experience, and that planning the event is rewarding and enjoyable, as we map out the steps to capture and portray the celebration.
Getting to know the couples I marry makes it easier to customise everything and anything, so that on your wedding day, we all feel comfortable and confident.  Each wedding has a unique story which is based on the couple, the wedding party, friends and family. Over the years, I have married rocket scientists, sports stars, yuppies, hippies and Goths. I have performed sand ceremonies, hand fastings, candle lighting, climbed mountains and dodged green ants.  Coping with missing rings, fainting bridesmaids and dead butterflies are 'all in days work'.  I love my job, and all couples I marry are special to me.  I hope that you will become part of the romance excitement and the entertainment in my never ending story.
Professional Recognition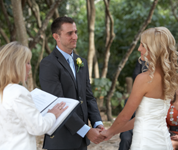 Several times since its inception, I have been honoured as a finalist with the Australian Bridal Industry Awards, and am highly recommended by other industry professionals.  Within the celebrant community, I have delivered professional development training to fellow celebrants on behalf of the Attorney General's Department and for a training company AssentTECS. I seek opportunities to share knowledge and experiences to promote continuous improvement amongst my colleagues around Australia. I feel honoured to be an award finalist in the 2014 Sunshine Coast Business Awards.
A Little History
Before becoming a celebrant, my background was in marketing with QANTAS and tourism bodies, and I honed my public speaking skills daily whilst representing Australia at Vancouver Expo in 1986.  I also met my husband there, acquired first hand experience with the fiancé visa sponsorship program, and worked for a time in the Australian Consulates Office.  I've been married now since 1987 with three "wonderful" boys. Perhaps this is why I have no difficulty projecting my voice with confidence and clarity!  However, for windy or noisy venues, I have a PA system, just in case.
I have travelled to many countries in the world as an elite sportswoman and later as a tourist.  Being with people and providing services that make people happy has always been my calling.
I would feel very privileged to help you celebrate your special occasion.
Please contact me, I would love to hear your story!
Karen Faa
Phone:  0412 242454
To find out more about weddings, please visit my weddings page or send me an enquiry